This started out as an email reply to my friend "The OZ", Rich, no last name because I don't have permission yet. All he asked was "How you doing?". Loaded question that and my reply got longer and longer. I figured I should use it as a blog post so y'all will know where I've been and what I've been doing. For my website visitors this will be another update on "what's up with those too light photos" Ramble I posted recently. 
I've been working on my website every day for a week. I think it's been a week. I've lost track of time.
When my old monitor was dying it made the pictures on my website look dark. It didn't occur to me that it might be my old monitor so I went and lightened the photos. I have a gig of content so that took a long time to do that. When my monitor died and I saw my website properly I realized, to my horror, that all the photos were washed out faded. So I had to go and reverse the damage I had done to the photos, again it took a long time.
Each time I make any changes I "publish" my website to my external HDD. What I didn't realize was I was publishing the changes to the pages and not the changes to the photos.
When I changed webhosts this last time my webhost was incommunicado. Even their website was malfunctioning, e.g. the page to report a problem was 404 and all my email to them bounced back. That's why I lost the content to my other two blogs, no way to export the content. I was ok with that because I could upload the back up copy of my website, which I assumed was all corrected.
Wrong.
I uploaded my backup copy to the new webhost and all the corrections to all the photos had not been saved to my external HDD. All the photos I had lightened by mistake and corrected back were all faded.
Ok, I am still unsure as to how the lightened photos were "published" to my HDD but not my corrections.
As a test I corrected some photos on my website, published it to my HDD, checked the copy in my HDD and saw that the corrections were not copied. Next, I took the corrected copies and copied that folder to my HDD, checked the copy of the folder and the photos were copied over. So the labor intensive method worked and the easy way to back up my site did not.
The question of how the lightened photos got copied over to my HDD but not the corrected photos is still now answered. But I didn't have time to wonder about that I had to correct all the photos on my website that were part of the mistake of being lightened.
Are you bored yet? Hah!
Not only am I correcting the photos, laboriously copying the folders over each time I change a section, but there were unexplained changes in the width of some pages that were otherwise fine. I had to check every page then. As I did I changed the footer to remove some links and that will be a sign to me that this section had been edited.
There were links to websites off site that were no longer working. I've had this website for 12 years so other craft or vendor websites blink out like twinkling stars over that time. Like human years vs dog years, computer years are even longer vs dog years. My website has a reputation of being a maze to go through but it's also a big store house of polymer clay experimentation and discovery.
The upside of this exercise in patience is this: I've been given an opportunity to do Spring Cleaning on my website and to review the chronicle of my polymer clay journey. I share my miscalculations as well as my successes, you see, as a way to encourage the new clayers to pick themselves up and dust themselves off and give another effort at a technique they are wrestling to the ground.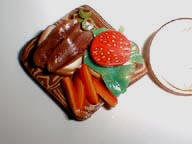 Sliced tomatoes: Around 2001 I made some miniature sliced tomatoes that were just magical. It was a flash of intuition as to how to make it look fresh and juicy, capturing the colors of the seeds, and I didn't record the process. The captions were understandable when I wrote them but when I returned to that mini food section I didn't leave enough of a trail to follow back to repeat the technique.
5 sliced tomato experiments later: What a pain in the ass. One experiment was done in front of an audience during a webcam demo. The tomato slice of grave disappointment. After the demo I made 4 more efforts and each one got a little closer to what I was aiming for but none replicated that flash of brilliance that my first undocumented effort had been.
I put the photos of each experiment in the tomato section without captions and left them to grow fallow because I was disappointed beyond words. I returned to that section sometime later to add some captions but it was painful to do that because I was still disappointed. I never visited that section via a browser.
When I visited that section via a browser during this Spring Cleaning I was stunned to see that instead of the thumbnail picture and the number of the page being in a table with two cells side by side, as all my index pages are, 4 of 5 of the cursed tomatoe slice experiments had the cells on top of each other in a bizarre staggered stair step manner.
It took making a new index page, manually copying each picture and number of page to the new index, saving it as a temp file, deleting the old index page, and shutting down FrontPage entirely, reopening it up, opening the temp page and saving it as the old index page, to make the correction.
Those tomato slices are cursed I tells ya. Just cursed. When I made effort to perform the "save as" using the old index page name, even when the old index page had been deleted, FrontPage was saying it can't save a new page as the old page name when the old page was "open". It was not open it was deleted. The only way around that software glitch was to shut down FrontPage all together and open it again to erase it's short term memory.
Those cursed tomato slice experiments cost me half a day's work. http://norajean.com/Food/Tomato/Index.htm
During this Spring Cleaning, review of everything I've documented sojourn, I've written no astrology forecasts for my astro blog, no entries to my general nattering blog. I did write a "Ramble" that's a page on my website that I linked from my home page explaining, in a shorter manner, "what's up with these too light photos" and asking my website visitors to be patient while I correct and straighten up the website after this latest move to a new webhost.
I did take time during the New Moon/Solar Eclipse to set up my e-commerce section. After researching the half dozen electronic shopping cart options through my new webhost i went back with my original plan of using Mals-eCommerce, a free service to small and medium sized businesses, that's been around for 10 years. Setting up ecommerce has been an on going effort. When I was married to James he'd complain that I'm not selling. I'd go and start the process of setting up ecommerce for my art and then he'd complain that I should have a real job, so I'd stop that and go on the fruitless quest of looking for a job when I'm past the sell by date for an admin in corporations. This happened, I don't know, maybe 5 times, from 2003 to just before he started seeing the woman he left me for, in 2007.
I took a class in 2008 on how to write a business plan through the Women's Initiative. I was asked to give the graduation speech for my class. Note the date. The beginning of the recession is when our graduating class sallied forth to start our small businesses.
Since this last New Moon/Solar Eclipse had the promise of effecting the tone for some time going forward I wanted to take advantage of the energy. Anne Ortelee said that each hour of the eclipse equals 1 year's influence. This eclipse was almost 6 hours long.
All that day I was digging through my records for my username and password for Mals-ecommerce website. Printing out the FAQ pages on the coding I need to master to set up "buy now" buttons next to my inventory. Setting up a subdomain pointer to a folder on my website. Building that web section a page at a time because I don't want to have an "instant noodle" turn key look, I want my ecommerce section to look like the rest of my website. http://www.norajean-designs.com/ that's what I've built so far.
When the Spring Cleaning is done on my NoraJean.com section I'll be going through my inventory here and figuring out what is fit to sell.
I can't sell any of my sculpted figures because James was a heavy smoker and they are discolored. Customers expect artwork to come out of the box not smelling like an ashtray. Another bone of contention with James and me about my being able to sell my artwork was for him to not smoke in the apartment. Water under the bridge and all that.
I'm going to use this as a blog post for my general nattering blog.