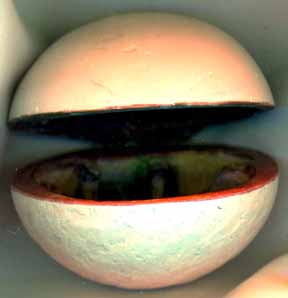 11-07-09: Rebuilding "MizKoshka's old Area51/Shadowlands Site: Work from around 1999" GeoCities website.
how to hinge an egg is the first section to be rebuilt
The rest of my first website will be being rebuilt but not all at once. This section was rebuilt because a new ClayMate, Suzy, asked if anyone experienced Sculpey discoloring when it was cured. I said, "I have pictures." and it took me two hours to rebuild this section. That's enough for my Saturday night.