I see the topic of tube come up and there's a couple of ways I go about making tube beads.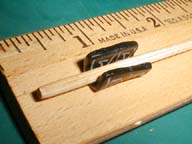 As a follow up to this post to CITY-o-Clay I created a new tutorial on how to make one of the simplest tube beads I know how to do.


One can make the tube without the hole and then poke a hole through it while still raw. Poke from one end, remove, turn the tube around, poke from the other end. In this next tutorial I use a turkey skewer to get the initial hole poked, then I roll the raw tube bead with the skewer inside to widen the hole.

http://www.norajean.com/New_Projects/Chop/MirrorTubeBead/Index.htm
This next picture shows the finished beads but how they were made was I took slices of the stacked sheets, pressed them to a sheet of clay. Cut out a rectangle and wrapped it around a bamboo bbq skewer. They were cured, wet sanded, and finished on that skewer until I wanted to take them off. To take off the tube beads off of the skewer I reheated them for 5-10 minutes, then twist and pull.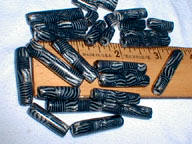 http://www.norajean.com/2010/01-18-NJ-Cane/004.htm

Here is an example of how big a rectangle I needed to wrap around a bamboo bbq skewer for a tube bead.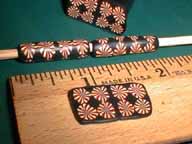 http://www.norajean.com/2009/09-12-TOF-Beads/021.htm

Here is a close up of Tongues of Fire basket weave tube beads, made in the same fashion: reduce some cane design, slice off a rectangle, wrap around a bbq skewer, cure, wet sand, finish, and Bob's your uncle and Fanny's your aunt and you're done.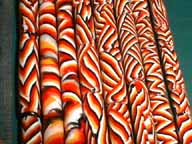 http://www.norajean.com/2009/08-25-TOF-BasketWeave/Beads-032.htm

Making beads on a turkey skewer is the easiest way to keep a hole centered while you for a bead, tube or any other shape. Here's an example of compressing a natasha cut to make your life easier making a large bead.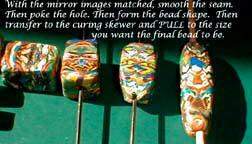 http://www.norajean.com/Biz-Archive/Chop/Natasha/Compress.htm

So just as there are many ways to peel a shrimp, there are many ways to make a tube bead. These are some examples.