March 31, 2013 - Easter Review

It's no secret that I'm not Christian but that does not stop me from celebrating
Easter in my own way.

Going back to the beginning of this group we have the first mini peep,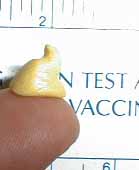 http://www.norajean.com/mizkoshka/peep.html

I have always been fascinated with hinged eggs and one of my earliest tutorials
was on doing just that: hinging an egg.





http://www.norajean.com/mizkoshka/howto_egg.htm

Then when I started experimenting with raising cane and chopping them up I got egg-cited about covering eggs with polymer clay chop and toss mirrored sheets.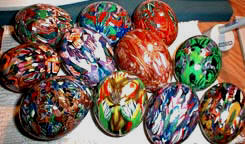 http://www.norajean.com/Rebuild/2000-Egg/2000-Egg-Index.htm


Then as time went on I experimented with hinged eggs with miniature scenes
inside of them.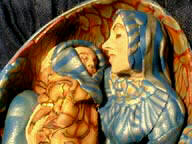 http://www.norajean.com/Biz-Archive/Eggs/Index.htm

These links are from 1999 - 2003, since Easter is about Resurrection.

So how ever you celebrate Easter, have a happy one. If you don't celebrate
Easter happy Cesar Chavez birthday!