Have you visited Jim's Printable Minis lately?

http://www.printmini.com/printables/p1.shtml

Even if you're not "into minis" a crafty jeweler will recognize the potential of
printing miniature book covers, pass ports, paper money, calendars, holiday
cards and then embedding these in liquid polymer clay for charms or additions to beads.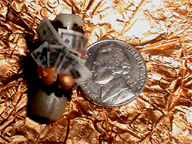 http://www.norajean.com/Biz-Archive/Jewelry/TLS-Lace-2001/Index.htm
This slide show works best in IE, it shows how I took mini printable paper money and added it to black lace and gold coins for a Barbary Coast bead.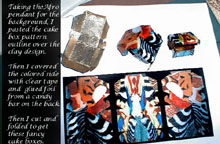 http://www.norajean.com/Biz-Archive/Chop/2002-03/African-Mix-032.htm
This page shows how I took a picture of a pendant made with the "African Themed Chop and Toss " printed it out on a mini printable cake box, lined it with gold foil from a candy wrapper and made a wee gift box to hold a special focal bead.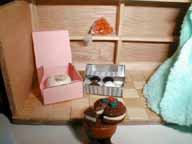 http://www.norajean.com/Biz-Archive/MSAT/ClayArt/Swaps/Past/1999-JulyFoodSwap/006.htm
Here are mini printable cake boxes that are used for miniature cakes. Do see all the mini food that was made in the 1999 Food Swap.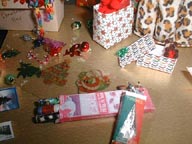 http://www.norajean.com/Biz-Archive/MiniScenes/2001-Xmas/x-mas-rm-006.htm
Mini printables for Christmas gift wrapping paper container was a nifty find. I cut out small pictures of gift wrapping paper from magazines to roll up as the
wrapping paper. The tinsel was cut from candy wrapper foil.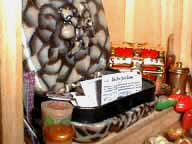 http://www.norajean.com/New_Projects/Kai3-NewDigs/006.htm
Kai's new digs needed to be "peppered with paper" so he had news papers to read, playing cards to gamble his printed paper money, and stationary to write home for more money if he had a losing streak.

All these mini printables can be incorporated into polymer clay on jewelry,
tins, picture frames, covered note books, covered pens, not only for dolls house decoration.

Just a few ideas that I think are underutilized.