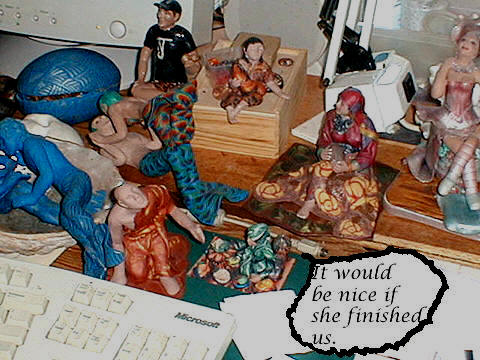 Unfinished figurines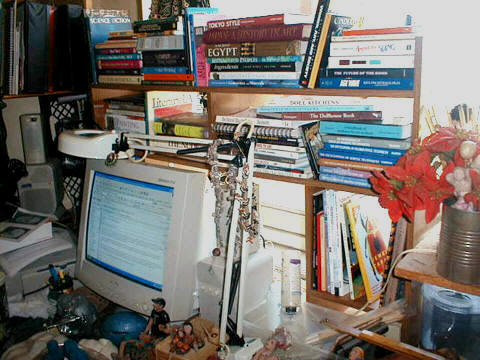 Books behind the monitor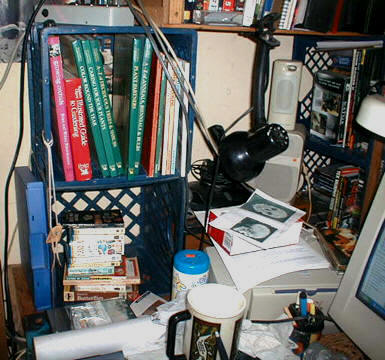 Garden and P-O-C-K-E-T-S books

I've been moving books around all week end. We're really sophisticated when it comes to book storage: plastic milk crates and salvaged boards. LOL In all my days as a hippy I've never witnessed plastic milk crate fatigue. But my husband reads on his commute and is a fast reader, going through a couple of books a week. When he finds an author he likes he'll get all the books that author wrote. When he's done he puts the books on the top of this hippy book shelf I constructed for him.

Yesterday I hear this loud crack. Buddy and I were startled and both look towards James' computer area and I asked him "Did something fall?"

James says, "Not that I know of. I don't know where that sound came from."

So I go to investigate. Plastic milk crate fatigue happened on the two lower milk crates holding up a gazillion books and my hair stands up on end. The whole book case construction is listing forward, just about to topple over, on to James.

"Help me hold this up while I take some of this stuff off!" I holler holding up the listing pile of books, wood and plastic milk crates.

A half hour later most of his books are off and in a pile. Disaster averted.

We have an area where I have my college books, books I had before we married, books we've both read since we got married 10 years ago and now I have this huge pile of new books James read on his commute to figure out where to store.

So all day yesterday I sorted books by genre: Sword and sorcery, SciFi, Horror, non-fiction crime, contemporary fiction, books written about movies or by movie stars and all this has to be melded into the books I already had when he moved in. I was an English major in college and minored in linguistics so books I had by the boxcar load. I'm just about done shuffling the books by genre.

I had to scav a couple more milk crates to rebuild something less unstable for James. This emptied out the crates that had my books for art that were near my work table.

When Co-Moderator Staci visited we found part of a book shelf down in recycling and she helped me put it behind my computer monitor. I've been putting half finished figurines there, hoping that seeing them everyday I'd get around to completing them. Well they are now down on my work table and my art books are where they were. It's a good thing because with Summer coming the Sun shines right in my eyes. The books will block the glare a bit.

While moving my art books I thought I'd share what I have handy to help me with the "input" part of the three parts of creativity.

Oddly enough I only have 5 books on polymer clay. All the other ones I had are with our Librarian Denise or out in circulation with the ClayMates. These five are two that are new that are headed to our lending library and three that I rebought because I wanted a home copy for myself.

The rest of the books don't have anything to do with polymer clay.

Since I like to experiment with faux stones I have two books that help me in that process. "The Complete Book of Rocks and Minerals" and "The Encyclopedia of Gemstones and Minerals". The best way to simulate something from nature is to study nature. Best bet is to go to someplace like the Discovery Store and buy small samples of real stones. So I have samples of real Malachite, Tigers Eye, Jasper, etc.

Sculpting is something I'm teaching myself how to do so there's a bunch of books on human anatomy:
"An Atlas of Anatomy for Artists"
"Drawing the Head and Figure"
"Eyewitness Science: Human Body"
"Male and Female Figure in Motion: 60 Classic Photographic Sequences"
"Rapid Review, Anatomy Reference Guide"
"A Handbookof Anatomy for Art Students"

I am interested in other cultures so picture books are always inspirational:
"Tokyo Style" how people in Tokyo live in really small spaces with a LOT of clutter.
"Japan - A History in Art"
"Japanese Crafts and Customs"
"Ancient Egypt"
"Endangered Peoples"
"Frida Kahlo: A Modern Master"

To help me with color theory I have books on painting:
"Introduction to Painting with Acrylics"
"Painting the Impressionist Landscape"
"Master Class: Drawing"
"Master Class: Painting"
"How to Paint Like The Old Masters"

Then there are these "encyclopedia" of series:
"Jewelry Making"
"Colored Pencil Techniques"
"Acrylic Techniques"
"Decorative Paint Techniques"
"Origami and Papercraft Techniques"
"Fantasy and Science Fiction Art"

I have a batch of books on art theory when I want to be a propeller head:
"The Nude"
"The Look of the Century"
"Art Now"
"Modern Art"
"Women, Art, and Society"
"Cinderella's Revenge" a book that deals with shoes solely. ;-)
"Japanese Modern"

For making mini food picture books of recipes are just the best. But it all starts with ..

"Ingredients" a picture book that has everything we could cook if we had a mind to: Meat, Fish, Dairy, Fruit, Vegetables, Spices, Grain. It helps me with color matching.

"The Ultimate Cookie Book"
"Desserts"
"BBQ and Grill"
"Mexican Cooking"
"Chinese Cooking"
"Japanese Cooking"
"Indian Cooking" East Indian dishes like curry and such.
"Mushrooms"
"Salads"

A lot of these picture books on cooking are sold in the bargin bin section of the larger book outlets. The closest one to my home is Borders and these cooking picture books I got for about $5.00 each.

Flowers and leaves are a popular subject for clayers so getting books on real flowers and leaves was a must:
"Growing Orchids"
"Readers Digest: Illustrated Guide to Gardening"
"Growing and Displaying Bonsai"
"Hibiscus"

The Successful Gardening Series:
"A-Z of Annuals, Biennials and Bulbs"
"A-Z Deciduous Trees and Shrubs"
"Plant Partners" matching trees to flowers and shrubs
"Caring For Your Plants"
"Color Round The Year"

Whitecap Books:
"Dried Flowers"
"Flower Arranging"
"Fruit and Vegetables"

All these were in the discount bins at Borders too.

For overviews on topics I like the "P-O-C-K-E-T-S series:
"World History"
"Ancient Egypt"
"Earth Facts"
"Castles"
"Insects"
"Science Encyclopedia"

For other small books along this line:
"The Pocket Guide to Mammals of North America"
"Eastern Butterflies"
"Rocks and Minerals" good for taking with me to the museum when I look at things made of rock or gems.
"Japanese Prints"

This is not to mention the National Geographic magazines that are scattered about the apartment. Next chore - get these gathered up and organized, put book marks in sections that I want to keep track of.

So what's the point of this post?

Input can come from a number of sources. When you want to make a polymer clay flower go to a real flower book rather than a polymer clay tutorial on a flower. The real deal will teach you more than a tutorial, which is an interpretation of a flower from one person's perspective. When you want to make a polymer clay mushroom, look at pictures of real mushrooms, or go for a walk and look for mushrooms growing in early spring. You'll be able to make a truer mushroom getting your inspiration from the real deal. If you're sculpting anything, humans, dogs, cat, horses, toss the polymer clay tutorials out of the window and get a book on the anatomy of that subject.

If you like a particular culture, past or present, get books about that culture, see what colors they used, what designs they used, learn about their customs and then create something that celebrates that culture. That's why I have books on The Day of The Dead and I have a web section that shows real examples of oferendas and cemeteries, sugar skulls and the like. Those were my inspiration and what I make is my interpretation of the real deal.

Use polymer clay tutorials for tips on how to manipulate clay, but use your eyes for picking what color to use, look at pictures of butterflies and then use the caning techniques of snakes, sheets and blends, to build your own interpretation of a real butterfly wing.

This is how we will make things that are unique and personalized. If we follow directions on a tutorial we can make what everyone else is making, which is a good start, like training wheels on your bicycle. The day will come when you will want to take the training wheels off and that's the point where you toss out your polymer clay books and tutorials and use real life as your muse.