PenPals, 07-08-07 - Golden Afro PenPal and Quarter Jar:
The ClayMates have been working on their Quarter Jar, it's a recycled jar that you decorate and put money into each time you doubt yourself. This African Lady is a PenPal, a sculpted figure built around a ballpoint pen barrel.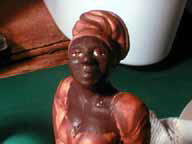 07/11/07 - Eyes: 09-20-09 finally captions on the enlarged pictures.