04-10-2009: Added the enlarged pictures with captions. Better late than never. This cane was such a trauma it took years to face it again. My unmet expectations lead to disappointment.
Then I thought that the new clayers need to see the experiment process, note where the beginning of the miscalculations happened, and know that no one is perfect.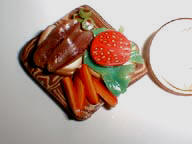 I did a tomato cane before but didn't catch pictures of how I did it. Now I have to experiment all over again to see if I can do it twice.
Featured in "Traditions of Polymer Clay"