This is part of a discussion going on at CITY-o-Clay regarding making clothing for an OOAK (one of a kind) doll. I like to use the term "figure" because I don't look at what I make as "dolls" as such. But that's another discussion. Below you'll find some links to web sections that might be useful when making OOAK doll clothing.
http://www.norajean.com/2007/06-21-Dano/Index.htm
There's sections here on how to measure a raw polymer clay figure for clothing. In this case it is male and we cut out wax paper clothing patterns for a shirt and a pair of pants.
On that page is a link to a review for "clay fabric"

http://www.norajean.com/New_Projects/Review-Clay-Fabric.htm
One place to find soft leather is the thrift store. I look for leather gloves for women, they are worn already, and since we're working on small figures there is enough leather to make shoes, purses, vest fronts, chaps, depending on the gloves you find and the clothing you're going to make with them.
Also look around the thrift store for clothing made of light weight fabric, small print designs, these are good for dolls and doll house uses.
The clerks at thrift stores always give me a weird look because I'm buying stuff that obviously does not fit me, or I'm getting costume jewelry that's broken (scav'ing the findings and bits). For you SteamPunk fans the thrift store is your best friend for watch parts, old appliances, but you already know that, don't you?
What I want folks to remember when making OOAK dolls, or working on things for the doll house, you don't have to buy new stuff all the time. Half the fun of filling a doll house is recycling what you have. I've seen beautiful furniture made from recycled cigar boxes; vanity top items made with a couple of beads and some polymer clay to hold them together. I've made black stockings with lace tops from recycling black panty hose and some bits of lace that would have been thrown out if I weren't into miniatures.
Keep your eyes peeled for the smallest bit of lace, a short strand of chain, a few seed beads, all these can be used when making doll clothing.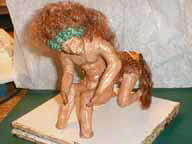 Hair: I refuse to buy doll house hair because it's expensive, the length is limited, and the colors don't look human. I use Beauty Supply hair extensions. This next link takes you to a review on different ways to deal with hair for polymer clay figures.
http://www.norajean.com/New_Projects/Review-HairRaising.htm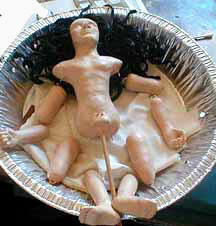 Lastly, if you're wanting to make clothing that you can change on your doll, make sure that you have elbows and shoulders that can move, like Cowboy Kai...
http://www.norajean.com/Biz-Archive/LEXX-Home/LEXX-CowboyKai-grp.htm